MyHome.ie Property Barometer Q1 2012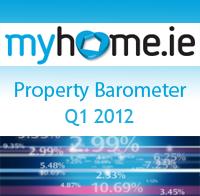 Asking prices declined by 7.2% in first quarter of 2012
Annual rate of decline is 15.8%
Average asking price nationally is now €219K; down 47% from peak
Median 3 bed semi price nationally is €185K
Monday 2nd April 2012. House prices declined by 7.2% in the first quarter of 2012, the fastest rate of decline in three years according to the latest figures from leading property website MyHome.ie.
The annual rate of decline in the average mix-adjusted asking price was 15.8% the highest rate of decline reported by MyHome.ie since property prices started to fall five years ago.
In Dublin prices declined by 7.5% in the first quarter while the annual rate of decline in the capital was 18%.
Asking prices nationally are now down by 47% compared to the peak – Q4 2006 – while Dublin prices are down 54% over the same period.
Based on average mix-adjusted asking prices, the average price for a home nationally is now €219K as opposed to €236K three months ago. In Dublin the corresponding figures are €248K versus €268K.
Once again new houses saw the smallest price fall, down 3%, with the average price of a new house now standing at €223K. The average price of a second hand home is €221K, down 7.3%.
The author, Annette Hughes, Director DKM Economic Consultants said that recent reports suggest house prices look set to fall by a further 10 to 15%.
'With prices falling by around 2% per month, this implies another 6 to 7 months of falling prices, before possibly stabilising in the second half of the year. However any move towards price stability in the latter half of 2012 will need to be accompanied by a recovery in the jobs market, the prospects for which are very weak over the coming months' Hughes said.
'Potential buyers need evidence that transactions' prices have stabilised. Right now there remains a gap between the two. While consumer sentiment has improved slightly over the last 6 months, many potential buyers and vendors remain cautious because of the fragile state of the economy and the high unemployment rate. However the lack of access to credit is a key constraint for those seeking mortgage approvals and remains a major barrier to transactions' Hughes said.
Angela Keegan Managing Director of MyHome.ie pointed out that the median asking price nationally for a 3 bed semi is now €185K.
'At this level, which is equivalent to about 5 times average earnings, prices are approaching more sustainable levels.While the economic analysis shows prices are set to fall further, the extent of these falls will vary as micro markets continue to emerge. For example the price of 3 bed semis in Dublin actually rose by 1.6% to €259K in the first quarter while they fell by 20% to €120K in Laois' Keegan said.
Keegan said potential buyers will have to weigh up the value of the increased mortgage relief measures introduced in the Budget – which expire at the end of the year – against the predicted price falls.
'It's a difficult call to make and everyone's situation is different. Hopefully recent moves by the banks to facilitate homeowners in negative equity and/or those with tracker mortgages will have the required effect and allow people who'd like or need to move to do so' Keegan concluded.
The median price of a property in Cork fell by 6% to €210K from €225K. The corresponding figure in Galway is €215K, down 4% while the corresponding price in Limerick and Waterford is €170K.
Ends.
For Further Information
Contact Kieran Garry,
Gordon MRM,
01-6650455 or 087-2368366
Note to Editor
Asking prices versus transaction prices: During the boom period when prices (and incomes) were rising and the number of buyers exceeded the number of sellers, transactions prices would have been significantly higher than asking prices, whereas now in recessionary times, asking prices are typically what vendors aspire to. As the market has adjusted downwards over the past four years and transactions have plummeted, asking prices have also had to adjust down¬wards. In today's market characterised by oversupply in some locations and a lack of mortgage finance, transactions prices tend to be below asking prices as what buyers are willing to pay or can afford is much lower now than during the boom years. The gap should narrow, however, as sellers become more realistic and as the demand/supply balance is addressed.